Other banking services
Safety Deposit Boxes
Keeping important documents safe from fire, theft and other types of loss is important. That's why we offer safety deposit boxes in a variety of sizes. You can access your safety deposit box during branch hours and our low rate is only billed annually. Safety deposit boxes are available at our Main and Armstrong branches.
Safety Deposit Box Appointment Details for Main Branch
To book a Safety Deposit Box viewing or listing appointment please contact our Solutions Centre.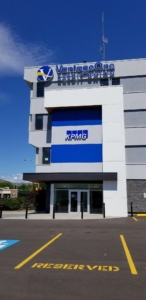 Interac e-Transfers
Send money or request money from your VantageOne account to anyone with a Canadian deposit account and email, even if you don't know the recipient's account number or banking information. Learn more about Interac e-Transfers here.
Money Orders and Drafts
Official cheques are an inexpensive, safe and convenient way to provide guaranteed funds or send them through the mail.  Offered free of charge to Senior, Value and Unlimitedpackage accounts.
Night Deposit
Our night deposit service offers you a safe and convenient way to make deposits any time of the day at any of our branches. Night deposits are free of charge and processed the following business day.
Have questions or need more information? Chat with us, e-mail us or give us a call