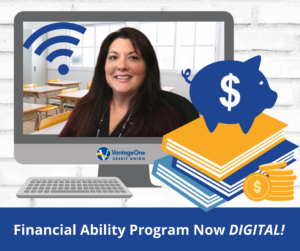 *NEW – Virtual Presentations!
Kristine Lidstone, our Financial Ability Liaison has been presenting in the local schools to all ages for over 15 years. The COVID-19 pandemic will not stop our mission to educate these students, we recognize that they need this knowledge and information now, more than ever. We are excited to announce that Kristine is offering virtual Financial Ability courses, please reach out to her through our info@vantageone.net for more information.
Recently, Kristine presented to a class at the Fulton Academy of Inquiry and Adventure Okanagan:
"Thank you so much for today! You were so engaging and your slides were the perfect amount of information and kept my interest throughout and I know the kids as well! Hopefully, they all ask their parents tonight how much the interest rate is on their credit cards:).
I really hope you can come back next year when we are in school and the kids could meet you and see it in person! Thank you for being so friendly and invitational."
– Sharon Halcro, EA
Academy of Inquiry and Adventure-Okanagan in Vernon
Learn more about Kristine below!
Learn more about the academy here
Meet Kristine Lidstone, Financial Ability Liaison at VantageOne Credit Union.
At VantageOne, we recognize the importance of Financial Literacy so much so that we actually have a special role dedicated to working with the schools and community groups in our region to improve their financial ability.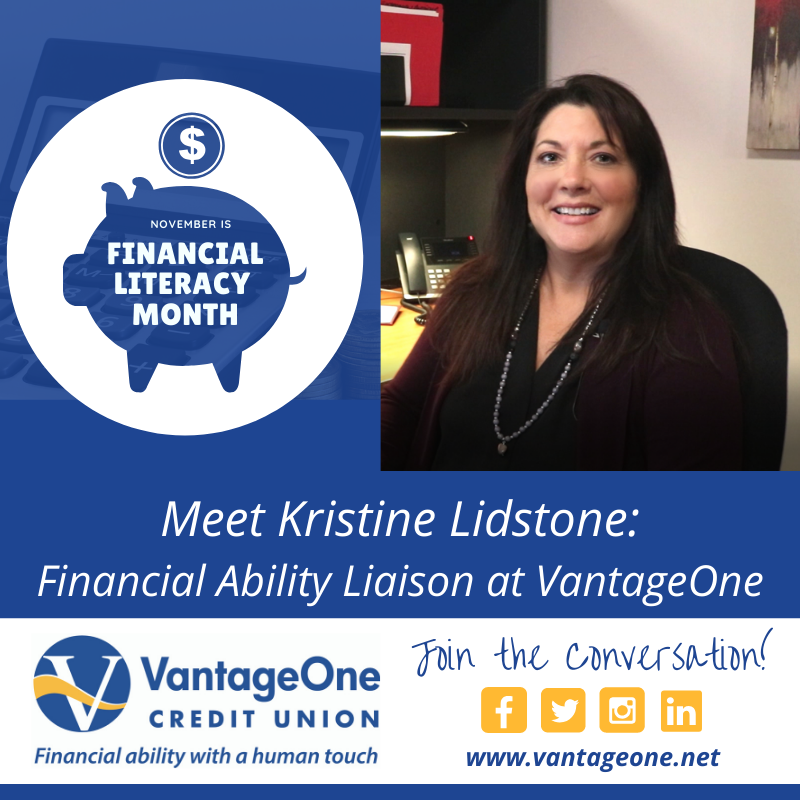 Kristine started off working for credit unions right out of high school and started her 16 year career with VantageOne as a teller at our Main Branch and has worked in various positions throughout the organization including:
Call Centre Representative (now Solutions Centre).
As a Member Service Representative (MSR) in Armstrong for the opening of that branch.
MSR and Account Manager (for seven years) at the Okanagan Landing Branch in Vernon.
And she assisted with the opening of our Peachland branch.
In her role as Account Manager, she became very aware that our younger generation lacked basic knowledge in the area of everyday banking and credit that they needed in order to be successful at managing their own finances. It became her passion to improve the financial ability of those in the local communities and for over 15 years she has helped provide financial educational workshops in the schools and for community organizations in Vernon, Armstrong and area. Kristine's presentations are informative and fun and specifically tailored to the group she is presenting to, whether it is a Grade One class or Grade 12's through to young adults and seniors. She is passionate about what she does and in high demand!
When Kristine isn't at work you will likely find her out in the community walking her dogs, volunteering, watching hockey or enjoying time with her husband, three daughters and two granddaughters.
If you are interested in learning more about Kristine's presentations and workshops please contact us at: info@vantageone.net