Debit card services
VantageOne MEMBER CARD® Debit Card
As a VantageOne Member, you can use your MEMBER CARD Debit Card to access to a network of more than 1,800 ATMs across Canada. Withdraw cash, make a deposit and check your balances – all of this without surcharge at any VantageOne ATM or any ATM marked with the ACCULINK® Network.
Find a Ding-Free® ATM.

You can also use your VantageOne MEMBER CARD Debit Card wherever the Cirrus, Interac® and ACCEl logos are displayed, but a surcharge will be applied by the ATM you are using.
Interac is a global leader in fraud prevention.
Don't panic! We've got you covered with Buyer Protection.
Interac Flash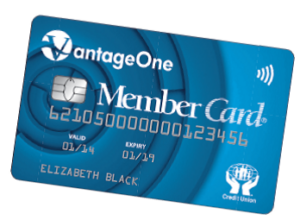 Your VantageOne MEMBER CARD® debit card has
a new look and a new feature! Now with Interac Flash, a contactless and secure way of paying, your new MEMBER CARD offers you even more benefits than before.
Fast and Easy
Interac Flash lets you pay for smaller purchases in a flash with the option of a contactless payment method. Plus, your MEMBER CARD still has a magnetic stripe and CHIP for businesses that are not yet Interac Flash enabled.
How easy you ask?
Check out this video to see just how easy it is to use!
Safe and Secure
Interac Flash uses three layers of security to keep you and your finances safe.
Technology
Interac Flash uses EMV chip technology, providing protection against skimming, counterfeiting and electronic pick-pocketing. This technology allows the card to store and process data securely, making it virtually impossible for criminals to create counterfeit cards.
Limits
A single Interac Flash purchase cannot exceed $100. On top of that, there is a cumulative spending limit of $200. Once this limit is reached, you will be asked to insert your card and enter your PIN to complete the transaction. Entering your PIN verifies that you still have your card and your limits will be reset!
Zero Liability
You are protected with the INTERAC Zero Liability Policy. You will not be liable for losses resulting from circumstances beyond your reasonable control. This includes losses resulting from technical errors, system problems or fraud.
VantageOne Credit Union on behalf of the credit union system is stating our re-commitment to the Code of Conduct for the Credit and Debit Card Industry in Canada.
The Code was designed to protect credit union members' interests related to the issuance and acceptance of payment cards, and to the operation of payment card networks.
Code of Conduct for the Credit and Debit Card Industry in Canada

Lost or Stolen Card?
MasterCard®
To report a lost or stolen card, call us at 1.800.567.8111, or if outside of North America call us collect at   1 (306) 566.1276 (collect).
ATM/Debit Card
Call us directly at 250.545.9251, Toll free at 888.339.8328 or if after hours call 1.888.277.1043

Have questions or need more information? Chat with us, e-mail us or give us a call.