Local Business Spotlight: Rusty Spur Tack, Feed & Pet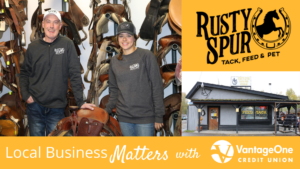 Local business matters to VantageOne, and it always has. We have been committed to helping grow our members, local businesses and communities since 1944. As part of our commitment to supporting local businesses, our commercial services team is highlighting some of our outstanding local business members. The featured business we are shining the spotlight on right now is Rusty Spur Tack, Feed & Pet.
Tell us a bit about your business and history.
The Rusty Spur Tack, Feed & Pet has been a fixture in the Lumby area for years and we just opened a new location in Enderby last week! Since 2004, our family run shops have been bringing ranchers, hobby farmers, pet owners and horse owners the highest quality products, unbeatable prices, and outstanding customer service.
We provide nutritional, health and safety products to farm and household animals, non-prescription veterinary products, new and consignment horse tack and supplies, and farm supplies to farmers, hobby farmers, horse owners, enthusiasts and pet owners.
We pride ourselves on our nutritional knowledge and providing exceptional service to customers from Kamloops to Edgewood and beyond.
What do you love most about being in Lumby & Enderby?
Lumby and Enderby are central locations for our business. We are surrounded by farmers, hobby farmers and pet owners.  Our customers visit us from Kamloops, Kelowna, Vernon, Salmon Arm, Cherryville, Nakusp, Edgewood and beyond. And, our online store reaches customers nationwide!
We pride ourselves on being part of the community both personally as we live in Lumby and with our business supporting many local and regional events and charities such as the Vernon District Riding Club, the Lumby Stars Hockey Teams, Feed the Valley, the Whitevale Community Centre, local School PAC fundraising and many, many others.We're looking forward to serving the tight-knit community of Enderby with our new location!
If you could give one piece of advice to new business owners or those thinking of starting a business what would it be?
Either buying or starting a business, it is paramount to have a thorough understanding of the value you provide to your customers and whom those customers are and then tailor everything you do to those customers. Also, know your costs inside and out and track, monitor and manage them on an ongoing basis.
As a small business, it is important to manage your sales, margins and expenses closely and adjust accordingly. Have a plan, write it down, follow it and measure your business against it. Don't be afraid to adjust the plan when necessary with forethought and planning. And, listen to your gut. It's usually right.  If you know your market, including your customers, products and competition, you should be able to make informed decisions on moving your business forward.
How has VantageOne helped you start, succeed in or grow your business?
Buying our business, part of our plan was to expand our product lines, add new products and build our online presence. VantageOne gave us the ability to manage our liquidity as we built our inventory, our online platform and expanded our physical and online presence. This has allowed us to add new customers, grow our individual receipts/sales and hence grow our business.
Visit Rusty Spur online here to learn more!
https://www.vantageone.net/wp-content/uploads/2017/09/2.png
270
350
Kirsten Regel
https://www.vantageone.net/wp-content/uploads/2020/04/VOCU_logo.png
Kirsten Regel
2020-08-20 18:29:58
2020-08-20 18:29:58
Local Business Spotlight: Rusty Spur Tack, Feed & Pet