Top 6 Black Friday Shopping Tips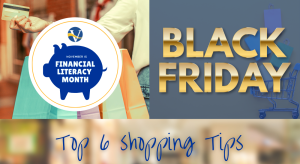 Black Friday is just around the corner and it's a day of sales and shopping, that while fun and exciting, can lead to some serious debt!
Below are some tips to help you navigate Black Friday shopping this year:
1. Set a budget
If you plan on shopping this Black Friday, then you should absolutely have a budget before you hit the first store—online or in person. A budget is a plan for your money, and stepping into one of the biggest sale days of the year without a spending plan could spell disaster. Check out our VantageOne Simple Budget Plan for some assistance in planning your budget.
2. Do your research
Once you've set how much you'll spend, it's time to do some research. Thinking ahead will help you prioritize your spending. But remember, time is money, meaning the amount of time you spend researching also comes at a cost and can add up to much more than any of the deals you get. But do make sure you have a sense of where the best deals are so you can hit fewer stops, or websites—and avoid overspending. Check out flyers, websites, and coupon/deal sites to see what is out there.
3. Only buy what you need
This might seem like common sense, but a lot of people get sucked in by the sales and make the common mistake of overbuying. What might seem like a good idea in December becomes an awful idea when the bills  Simply put, don't buy the stuff you have no need for and you can't afford.
4. Shop Online
Again, your time is money! You can avoid large crowds and long waits in line by shopping online. Plus you will save on parking, gas, and other miscellaneous expenses that may come up through a long day of shopping like eating out or buying things you didn't plan on buying. Remember to watch for free shipping codes or online discounts before you complete your purchase.
5. Put your savings…into savings!
Saved $40 on that appliance or 50% off a big purchase? Consider putting some of the cash you saved into a savings account for next year's Black Friday. For example – saved $100 on an electronic, and put that full $100 or even $50 of the savings into an account for the future.
6. Relax
Just relax and remember…this is just stuff. Ask yourself this question: In a couple of years from now, will I even remember what I saved or what I bought, is it that important to me? Better yet, will the person you're gifting this item, still be using it?
It's important to keep a healthy perspective and mindset. If you don't get that crazy deal or television or game console, it's not the end of the world! Don't get so caught up in shopping and finding a deal that you lose sight of WHY you're shopping and giving in the first place!
Have fun out there and shop smart!
https://www.vantageone.net/wp-content/uploads/2017/09/2.png
270
350
Kirsten Regel
https://www.vantageone.net/wp-content/uploads/2020/04/VOCU_logo.png
Kirsten Regel
2021-11-24 10:24:19
2022-11-22 15:47:50
Top 6 Black Friday Shopping Tips