Protect Yourself From e-Transfer Fraud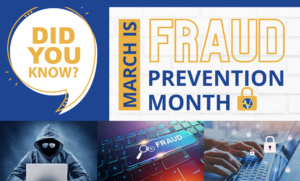 March is Fraud Awareness & Prevention Month! This is an annual campaign through the month of March that seeks to help Canadians recognize, reject and report fraud. Learn more here.
Follow VantageOne on social media and check our website often for new and important tips and tools to help you protect yourself from frauds and scammers. For more information check out our Anti-fraud Resources and videos here
Today's Tips: Protect Yourself from e-Transfer Fraud
We all have a role to play in keeping our financial activity secure:
Exercise caution when it comes to sending or receiving money.
Only send money to people you know and trust, just as you would cash. Before sending, it's important that you confirm their email address or phone number BEFORE sending the funds. An Interac e-Transfer transaction cannot be reversed once a recipient has deposited the funds. 
Always use a strong password that can't easily be guessed or found – and make sure you share it via a safe channel.
Better yet: Set up Interac e-Transfer Autodeposit for ease and added security, the funds you receive will be automatically deposited into your account. If you are sending money, and the recipient has signed up for Autodeposit, then their funds will be automatically deposited as well.
What you should and shouldn't do as the sender:
Don't:
– Include the answer in your security question
– Share the answer to your security question via email, text or on social media
– Reuse the same security question and answer for multiple recipients
Do:
– Create a unique security question that only you and the recipient will know
– Only share the answer to your security question with the recipient over a secure method of communication, such as over the phone
What you should and shouldn't do as the recipient:
Don't:
– Create weak account passwords that anyone can easily guess
– Share your passwords with anyone or use the same password for all your accounts
– Suggest multiple senders use the same security question and answer
Do:
– Register for Interac e-Transfer Autodeposit to have money automatically deposited when you receive it
– Create strong and unique passwords to protect your accounts, including your email and social media accounts
https://www.vantageone.net/wp-content/uploads/2017/09/2.png
270
350
Kirsten Regel
https://www.vantageone.net/wp-content/uploads/2020/04/VOCU_logo.png
Kirsten Regel
2021-03-04 16:51:24
2022-03-08 14:52:01
Protect Yourself From e-Transfer Fraud